Our Services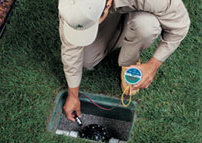 We can provide your home or businesses automatic sprinkler system with a complete maintenance and repair service.
Spring Start Ups, to include checking your controller and all sprinklers to ensure your systems is functioning properly.
Irrigation System Installations
Winterize your system in the fall.
Repair or replace clogged or malfunctioning sprinkler heads.
Check all valve solenoids to ensure sprinkler zones work properly.
Moving or adjustments to heads.
Rainmaker Irrigation is a full service contractor and can handle all of your needs.
As your yard grows, Rainmaker Irrigation will expand your existing system to provide efficient watering in all areas.
With our commitment to using the highest quality parts, at the most affordable pricing in the area, Rainmaker Irrigation can respond to your needs quickly.
Some of our services include irrigation systems, lawn sprinklers, landscaping ideas, irrigation system maintenance, underground sprinklers, drip irrigation, underground sprinkler systems, pop up sprinklers, lawn irrigation services, water sprinklers, irrigation sprinklers, sprinkler design, green house irrigation, agricultural irrigation, residential irrigation systems, commercial irrigation, lawn sprinklers, golf course watering, golf course irrigation, commercial sprinkler systems, and green irrigation systems.